Victoria Solomon
Jul 20
Ad Review: Yahoo Repositions Its' Brand
Recently, I saw Yahoo!'s 60-second (pretty long, since most commercials are 30 seconds) TV ad spot, featuring Kanye West's "Flashing Lights."  It coverages an average Joe (smart move) at work, when he enters "the world of Yahoo!" from his computer, taking a break from work.  Yahoo! was smart in this, they chose an "anyman" and shows how Yahoo! can take anyone "away."  Now, I don't know about any of you, but Yahoo is probably my favorite news site, for all information.  Why?  I'm pretty sure they provide the best headlines for links, which makes you want to read all of the news.  
However, this commercial is a little better for those who are familiar with Yahoo!.  As a Yahoo! user, I know that Yahoo has a variety of different news sites that are targeted to specific demographics, and they win readers with catchy headlines.  I get lost in Yahoo, more than I get lost in CNN.com.  Also, Yahoo! allows you to connect between your different social networks (although their email system is still not as good as Google's).
Jul 18
Ad Review: Buick's Regal Campaign
Maybe I'm wrong, but Buick for a long time was just an average American car.  Nothing special, nothing spectacular, nothing too fancy or extreme.  So…maybe I just have something against American cars compared to European or Japanese cars.  But anyways,  I was driving down Wilshire Blvd. in Los Angeles a couple days ago (stuck in traffic, of course) and noticed a billboard with a basic slogan.  Now it would seem like any other car ad, with the exception that when I looked at which car it was, it was a Buick.  Since when do Buick's slogans read "We threw caution out the wind tunnel"?  Maybe for an Audi TT or a Mustang, this slogan would make sense.  But with a Buick?  It got my interest into their new campaign to reestablish their brand and promote the "Regal."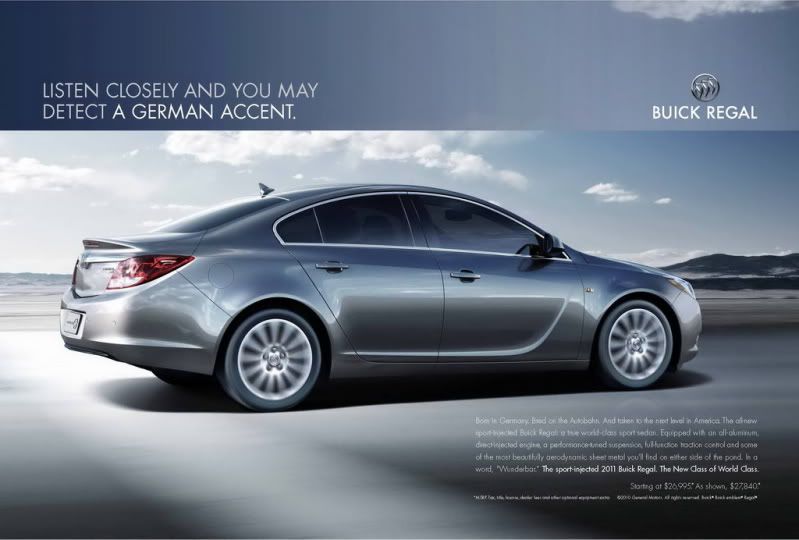 Jul 15
Ad Review: Kia's Soul, the New Way to Roll
The other day, I was watching TV and the new Kia commercial for the "Soul" came on, featuring hip, "gangsta" rapping…Hamsters and a very catchy song, "The Choice is Yours" by the Black Sheep (NOT HAMSTERS?!?!? Crazy I know).  Kia has used hamsters in previous commercials, which turned out to be very successful, and of course they wanted to reach a different target audience with the Soul.  Kia wanted to reach a younger, hipper, fresher audience…and so they turned to hip hop hamsters. Not exactly sure who came up with that idea on the drawing board at famed So Cal-based David&Goliath (one day I dream of working there). 
Apr 23
Ad Review: Don't Snicker at Snickers
This snickers advertising campaign for billboards, buses, and city advertising was started around 2006. It has been successful for almost 4 years now. The advertising campaign uses the visual design of the snickers logo and just replaces the Snickers text with their slogans and taglines. It allows for consumers to visually identify with the brand and look at the brand in a new way. With this advertising campaign, Snickers wanted to become part of the snack industry as well as the candy industry. Snickers used words such as hungry, snack, peanuts, and nuts in order to have consumers connecting Snickers to a snack as well. By trying to become part of the snack industry they move away from the negative idea of consuming candy. People feel better about consuming snacks more often than they do candy. By becoming part of the snack market, Snickers can be eaten more often. Consumers feel less guilty. Snickers wanted to send the message that their candy was about satisfying hunger, not as a dessert or guilty pleasure. They decided to use the fact that their bars contain peanuts to approach the snack world. Also you can see from two of the advertisements, that their target audience is college students.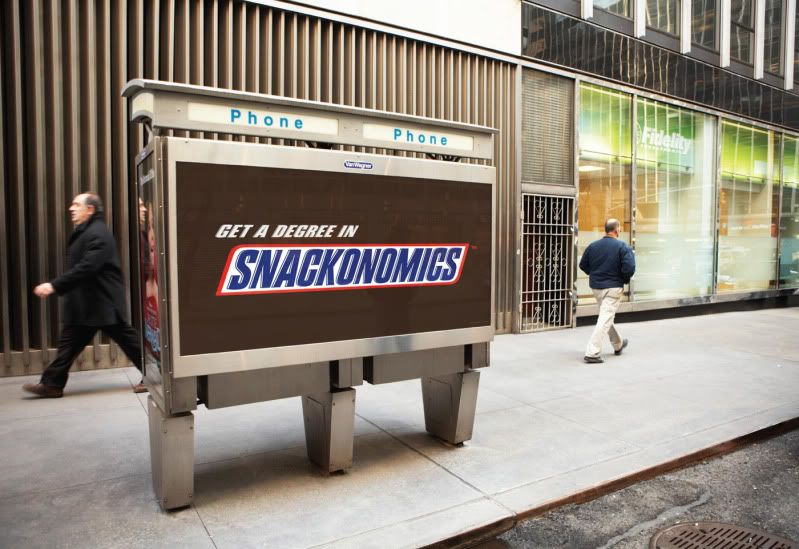 Mar 16
Ad Review: McDonalds Does Coffee
Since I explored Starbuck's advertising a while back and their target against companies such as Dunkin Donuts or McDonalds who are providing lower cost coffee, I wanted to explore McDonald's ad campaign that took place last winter/spring of 2009. McDonald's launched an ad campaign over winter 2008 to spring 2009 in honor of their new coffee drinks. They wanted to separate themselves from Starbucks in the area of cost, but not quality. Not only did they create a series of billboards with creative lines, but they also played with the urban layout of major cities. For example, the ad below plays with the idea of street lights.
Feb 15
Ad Review: Life Takes Visa
Credit cards are easy to promote. What is more fantastical than using a magical card to buy whatever you like! (And of course not include the dreadful part of actually paying off the card in the advertisements). Visa came up with their new campaign (semi-new, it has been around for a year or so) titled "Life Takes Visa." They took a whimsical, organized, and humorous perspective on the spending of money. They effectively correlated their television ads and their print ads. 
Jan 30
Ad Review: Trident Layers It On
Recently, Trident came out with their newest gum, Trident Layers. It's a unique gum in that it is a gum sandwich with a sour flavor in the inside and a sweet flavor on the outside. And how do you go about advertising taste of gum through a print ad? Mostly with gum advertisements, I have found that you just have to create positive awareness and trust with the gum flavor (even if the consumer has never had the gum). If they see enough ads, with enough bright colors, and the gum is buzzworthy, it's a for-sure purchase when they're in the grocery store. The consumer can easily grab a handful of packs and throw them on the belt. Gum advertisements just have to create awareness of great taste, long-lasting taste, and something new, something better.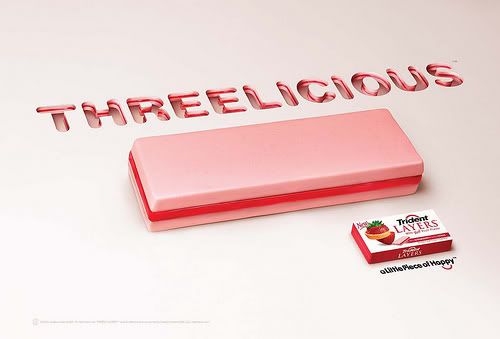 Jan 14
Ad Review: 2008 Pepsi is Presidential
Pepsi's idea for their most recent ad campaign was the ride on the Obama's winning of the 2008 Presidential Election. Obama's own campaign used the line "Yes, we can!" and Pepsi used this to their benefit and used the line, "Yes, you can!" They even redid their logo which was very similar to Obama's web design and logo. (Of course Pepsi uses similar colors but they updated their logo to look more bold and modern). Pepsi's ad campaign featured copies such as "One for all", "Yes you can!", "Howdy!", "LOL", and "Pop Pop Pop". Their ad was less about the soft drink and more about the youth generation and movement and about capturing the current youth of the U.S. by using phrases, lines, and abbreviated words." Bright colors also accompanied these lines. For one of their copies, they quoted, "Every generation refreshes the world. Now, it's your turn."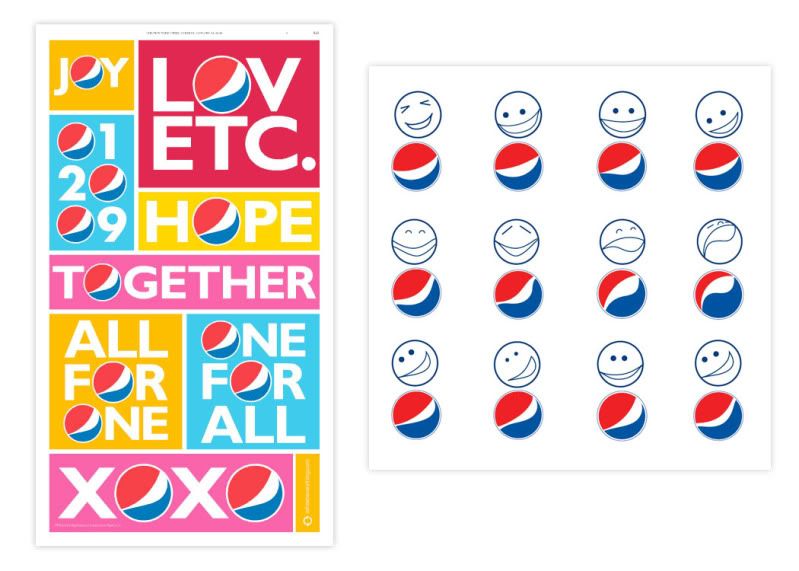 Jan 02
Ad Review: Juicy Couture Aspirations
I wanted to take a blog entry to talk about perfume advertisements, since mostly I focus on food and beverage advertisements. Fashion and perfume advertisements are a world of their own and take gender and body image into account. Part of what Juicy Couture stands for as a company is femininity, elegance, sass, spunk, and physical independence from man (but not necessary emotional or economical independence). They represent what I like to call "whimsical childhood make-believe grown-up."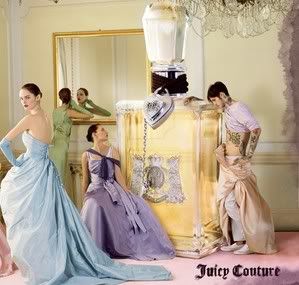 Dec 09
Brand Review: Tropicana Brand Identity
I don't know if any of you recall, but last January, in markets, and even our local Fens, there was a big change in the drink section. The Tropicana cartons were completely different. And while many of you probably didn't think much of it, and just grabbed for it, there was huge debate over the change (so much in fact that they reverted to the old carton design). Now some aesthetic lovers, loved the new modern carton. We liked the clean typography, the simplicity, and were ready for a change from the orange with the straw. However, aesthetics does not always rule consumers in terms of their buying patterns. Just because a bottle is prettier (although this makes me cringle) does not mean a consumer is more likely to buy it. And consumers get used to the standard design of products. Below is the old carton (left) versus new carton (right):